Gospel Song Lyrics. There are several links to find Gospel song lyrics. Just a bit further down in this post I have listed some of them. Feel free to check them out and get some of your favorite gospel song lyrics. These links are for artists who are currently popular in the Gospel music world.
For any of you who wonder why in the world is this post linked with a website called "Earn Income Despite Side-Effects of Cancer", it's because I grew up with Gospel music. I would always sing along and dream of being in a traveling gospel group some day. Traveling with a gospel group was only a dream, but the singing wasn't. Now, because of cancer and the treatments to cure the cancer, I can no longer sing or talk. That's why this website was created, but you can explore more of my website shortly.  Right now, I just felt like adding some fun music information because I did love to sing and I still love to hear the music! I hope you enjoy it as much as I do.
When I was a child, my parents didn't necessarily approve of me listening to radio or more of the "popular" music. I was strongly encouraged to listen to sacred music, however. That was OK. I liked it very much! My favorites were the old gospel quartets. I went to as many concerts as I could. I bought their records and memorized every song. Of course, back then we didn't have the opportunity of getting on Google and finding the lyrics. But I learned them anyway.
If you read on you will also learn how this incredible music started. I did some research about the rich Gospel music history. Keep reading beyond the Gospel Song Lyrics links to see what I found.
I am a huge fan of the old Gospel Quartets so I added information about some of them as well.  It was fun researching some of the greats. I've always loved them, but I didn't realize how big they actually were in the world of gospel music.
Links to Gospel Song Lyrics:
Air1 – This is a nice site. There is not a big lyrics list, but it had a lot of other really nice things. Each week, this site highlights the Top 10 hits, and their lyrics, of the week so you can keep up with what is popular.
Any Christian Lyrics – This site is OK. The list is kind of a straight layout.  It includes lists and links to the newest lyrics to the site and the most popular lyrics
Christian Lyrics – This one goes to a list of top artists. You click on the one you are interested in and it brings up their songs. Then you can click on the song for the lyrics. It's pretty easy to use. There is also a nice list at bottom.
Keep and Share  – Don't go to this one. I got a virus screen when I tried to use it to search. It did have some of the most common "praise songs" lyrics there that I didn't have to search for.
All Gospel Lyrics – I found this on Google, and was able to get on it at first. I found lists of new songs. However, it wanted me to become a member. I didn't do it and later when I tried to get on the site my computer said the site could not be found.
Christian Gospel Lyrics – This site is a little more confusing. It works, but I had to do some work to find what I wanted.
Links to find Gospel Groups:
Current Gospel Groups; These are the Southern Gospel artists.
List of American Gospel groups: This page is called the American Gospel.  I found the original Southern Gospel quartets here.
Links to find Current Individual Gospel Hits:
Global Gospel and Praise Songs 
A Little History of Gospel Music:
Now, I have to laugh at myself here.  When I took music history classes in college I received my lowest grades in all of my college history. Music was my major study and my college advisor taught my 2 music history classes. I got a C in the first  class and a D in the second one. I was so embarrassed!! Now it makes me smile as I find myself writing a "research paper" in music history!! Join me in the irony.
I had no idea how little I actually knew about my favorite music style until I started researching for this post. If you are interested in more of how Gospel music originated and how it has grown, read on. I got a bit happily involved as I researched, so kept digging. I found new music to enjoy and new information about the artists I've always loved.
After the history section, read on further and you'll find pictures, links to interviews, and information about my favorite original Southern Gospel Quartets.
Origins:
Gospel music can be traced back to the early 17th century in the tradition of the music of the Negro spirituals, and  also
the  repetitive call and response style of worship for those who could not read the words to participate in worship.
From information I found, it looks like the first published use of the term "Gospel Song" probably appeared in 1874 when an American composer, conductor, and singer named Philip Bliss released a songbook entitled Gospel Songs. A Choice Collection of Hymns and Tunes . He wrote many well-known hymns, including Almost Persuaded; Hallelujah, What a Saviour!; Let the Lower Lights Be Burning; and Wonderful Words of Life.
Other great names that popped up in my research of Gospel music were George F. Root, Charles H. Gabriel, William Howard Doane, and Fanny J Crosby.
James D. Vaughan, "the father of southern gospel music," began to publish his own music. His publications were where the lyrics to a Gospel song was first "penned" with the actual shaped note music. In 1900, Vaughan published Gospel Chimes, a book of shaped note hymns.
In 1903, Vaughan founded the James D. Vaughan Publishing Company in Lawrenceburg, Tennessee.  Vaughan's most significant business decision came in 1910 when he revived the idea of the professional vocal quartet.
Gospel Quartet:
Gospel quartets sing in four-part harmony, with parts given to a tenor, or highest part;  the lead singer, who usually takes the melody;  the baritone, who usually sings a bit lower, blends the other parts together,  and adds richness; and then the bass, or lowest part, who is often a favorite among listeners. It is not uncommon for some singers in the quartets to switch parts on different songs.
Vaughan hired a group of four male singers to promote his music books by traveling around the local area and sing in churches, singing schools, or anywhere someone would let them perform.
The Gospel quartet music is sometimes called "white Gospel" or "Southern Gospel" because it grew out of the musical traditions of rural white people in the South.
Churches in the Pentecostal worship style readily adopted the Southern Gospel Quartet. Late 20th-century musicians such as Elvis Presley, Jerry Lee Lewis,  Andrae Crouch, and the Blackwood Brothers were either raised in a Pentecostal environment, or have acknowledged the influence of the Pentecostal Church.
The "

Father

of Gospel Music"
From the 1930's to the 1960's Gospel music reflected the desperate life circumstances of despair and death, but also the hope and life where God was on our side.
Blues pianist Thomas Andrew Dorsey ("Georgia Tom"), who  became known as the "Father of Gospel Music", added grandeur and some even say "veracity" to the Gospel song.  He combined Christian praise with the rhythms of jazz and blues. Sometimes this music is called "Gospel Blues".
Mr. Dorsey wrote many songs. One was "Take My Hand, Precious Lord". He stated that God gave him the tune when his wife and newborn son both died during childbirth and he turned to the piano in his grief. His other most well known Gospel song, "Peace in The Valley", was also written right after their deaths.
Mr. Dorsey later co-founded the National Convention of Gospel Choirs and Choruses and eventually helped bring in the "Golden Age of Gospel Music" with Civil Rights activist Mahalia Jackson who became known as the "Queen of Gospel".
Wallace Best, Ph. D. is a Professor at Princeton University who specializes in 19th- and 20th-century African-American religious history. In a Huffington Post article,  he states that "Gospel music is the most authentically black cultural expression and the most glorious music on earth with a sound and a feeling all its own".
Other Styles of Gospel Music:
Progressive Southern Gospel
Stephanie Gwinn wrote about Gospel music, "I am not really good at describing the difference between "Progressive Southern Gospel" and "Traditional Southern Gospel", other than to say that "Progressive Southern Gospel" is more soulful than "Traditional" and "Traditional Southern Gospel" is deeply rooted in the quartet sound.". An example of progressive Southern Gospel is "David Did Dance" as performed by Lauren Talley and an example of Traditional Southern Gospel is "Oh, What a Savior" as performed by The Cathedrals.
Christian Country Music
Gospel music with a Country music flare. It peaked in popularity in the middle 1990s.  Elise Cleary writes about her favorite  Country Music artists who are also Christians, such as Carrie Underwood and Tim McGraw.
Dove Awards
Every year the Gospel Music Association hosts the Dove Awards with the purpose of honoring those in our industry who have made a great impact through their music.
Here's the Fun Part:
My all-time favorites were and always will be the Blackwood Brothers Quartet. When I knew them the quartet was Pat Hoffmaster (tenor), Jimmy Blackwood –  (lead), Cecil Blackwood (Baritone), and Ken Turner (bass). James Blackwood (one of the original brothers who started the quartet) was very much involved in the group but often times joined the rest on stage only for a part of the concert. Tommy Fairchild was the pianist.
Check out this video of them singing "Jesus Is Coming Soon"
In 1926, James Blackwood and his brother Doyle had developed an interest in gospel music, singing at church gatherings, camp meetings, schools and any place they saw the opportunity.  James, his nephew R.W., his brothers Roy and Doyle formed the first Blackwood Brothers Quartet. Their first radio broadcast was in 1934.
Here's a video of the original group performing "Rock A My Soul" in 1951. Origianal Blackwood Brothers Quartet
Interview with James Blackwood
Follow this link to learn more about their history: The Blackwood Brothers
After a tragic plane crash in 1954 took the lives of 2 members of the Blackwood Brothers Quartet and J.D. Sumner stepped in as the new bass singer until he formed his own quartet (J.D, Sumner and the Stamps Quartet) in 1965.
A young Elvis Presley loved Gospel music and often attended the conventions held by the Blackwood Brothers and was in awe of the powerful booming bass vocals of J. D. Sumner. In time he and J.D. became very close friends.
In 1971 J. D. Sumner and the Stamps Quartet were invited to tour with Elvis Presley. The Stamps would typically perform gospel music as a warm-up act for Elvis, then they would add their backing vocals once Presley took the stage. The Stamps were also featured on most of Presley's studio recordings between 1972 and 1977. J.D. Sumner and Elvis Presley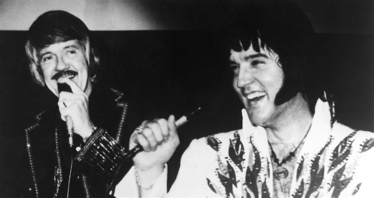 J.D. was recorded in the Guinness World Book of Records as the lowest bass singer ever. His full bass tones  were incredible. Listen here: Lowest Bass Singer Ever! And here:  J.D. Lowest Notes Ever Sung
Last gospel interview with JD Sumner
Other Popular Artists:
Tenor Jake Hess sang lead with  Hovie Lister and the Statesmen Quartet with Hovie Lister, Doy Ott, and Rosie Rozell from 1948 until 1963. Video of Hovie Lister and the Statesmen Quartet
In the fall of 1980, Hess, Lister, Rozell, assembled a new group with James Blackwood and J.D. Sumner, as a result the southern gospel group the Masters V was born. They toured from 1981 until 1988 when illnesses prompted several of the members to retire from full-time singing.
Clips with Jake Hess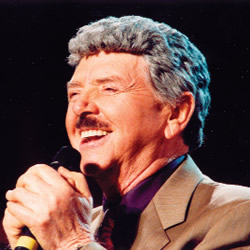 Hovie Lister: A southern gospel music pioneer
Vestal Goodman (December 13, 1929 – December 27, 2003) was a singer who performed in the Southern gospel genre for more than half a century.[1] She is known both as a solo performer and as a member of The Happy Goodman Family—which originated with her husband and his brothers and sisters—one of the pioneering groups in southern gospel music.
Guy Allen Penrod (born July 2, 1963)[1] is a gospel music singer. He is known for his work as the lead singer of the Gaither Vocal Band, a position he held from 1994 to 2008. Guy Penrod , who spent 14 years as the lead singer of the Gaither Vocal Band,
Wrapping This Up:
I could go on and on with great Gospel music artists and their music.  Maybe sometime I will add more. For right now, I hope you've enjoyed this post as  much as I enjoyed researching and writing it.
I'd love to have you visit some of my other posts in this site and learn about how you can make money, information about cancer and my other website Fun Drawing Website.